Bryan Katis joins Virtualitics as Head of Product
Written by Amanda Derrick
Jan 5, 2023 4:05:34 PM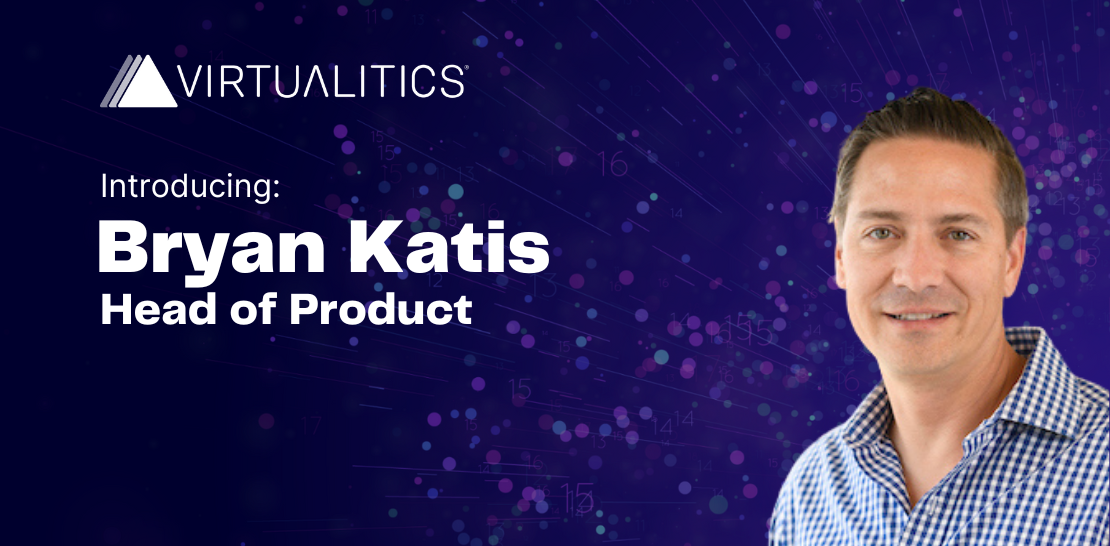 Virtualitics is pleased to welcome Bryan Katis as our new Head of Product. With over 20 years of experience in data and analytics from companies including SAP, Zepl, and most recently DataRobot, Bryan brings experience and vision that will lead our team and our product to new heights.
Bryan's passion for technology started at an early age, learning how to code when he was only 12 years old! He's experienced both startup life and swimming in big ponds with big fish, sometimes in one move (his first startup was acquired by GE). His move to SAP enabled him to build his career while enjoying both the technical and business sides of companies. He says:
"I really try to take technology and help it solve challenges that customers face and lead to better business outcomes. Not just technology for the sake of it, but how can we really apply that technology to solve problems and be the first to market and innovate in the data analytics space."
In 16 years at SAP, Bryan held various roles in finance, data warehousing, data intelligence, and more. He worked on over a dozen projects from inception to launch, growing them into market-leading products. Bryan collaborated with many Fortune 500 companies to build customized solutions that supported their teams on an enterprise level.
After leaving SAP Bryan returned to startup life. He loves the speed and agility that startups enjoy—a startup often replaces an established company because of its ability to move quickly and shake things up:
"I love the disruptive nature of a startup. The ones that succeed have a very narrow focus, they're really trying to solve a specific problem. You can't afford to be very broad; you have to be laser-focused on a specific problem and then figure out how to get that product market fit. I love working with customers, early adopters, to be able to solve those challenges in ways that provide better business value and also provide value to the users and overall to the world."
While many products started out IT-centric, Bryan's experience taught him the value of tailoring experiences beyond only tech experts. It's not all about the features; you have to think about the users, too. Being "customer-obsessed" is Bryan's priority, and he will be a key contributor as we continue bringing Intelligent Exploration to a variety of industries and users.
Bryan enjoys mentoring individuals and building high-performing teams, setting individuals and groups up for long-term success. He is looking forward to gathering customer feedback and interacting with Virtualitics customers to understand their needs and experiences in our platform.
When he's not working, Bryan is a proud University of Georgia graduate and football fan and he's looking forward to cheering them on in this year's College Football Playoff! An avid road cyclist, he rode over 17,000 miles last year and is on track for over 13,000 miles this year. Bryan's younger brother was diagnosed with Juvenile Diabetes and Bryan is grateful to be on the Executive Board for the Tour de Cure in California with an annual ride that raised almost $1.3 million dollars this year for this personal cause.
We are so excited to have Bryan as part of our team! You can follow him on LinkedIn and we look forward to sharing his work here at Virtualitics.