Intelligent Exploration On the Road: Visit Virtualitics at Databricks and Snowflake Summits
Written by Amanda Derrick
Jun 21, 2023 10:17:03 AM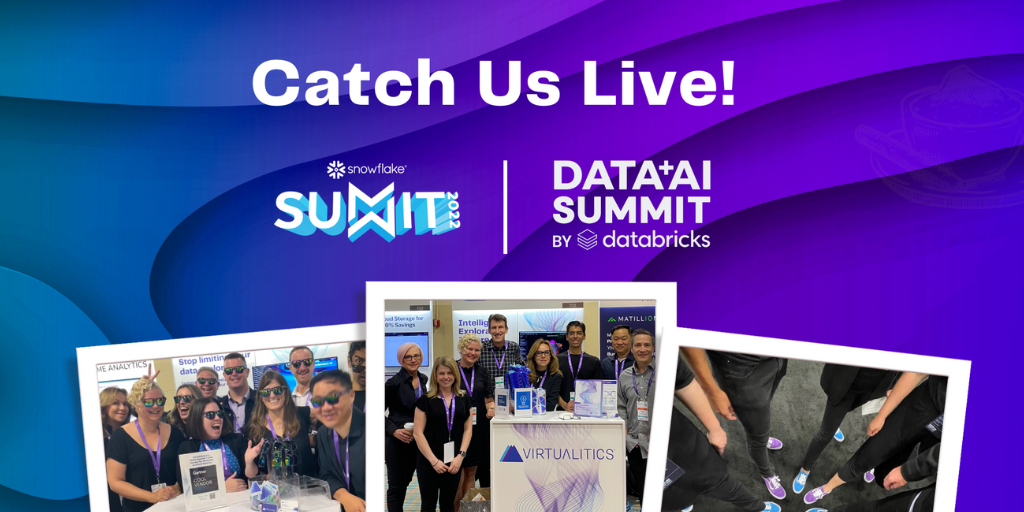 Summer is for road trips, right? Virtualitics is excited to be participating in two major events next week: Snowflake Summit 2023 and the Data + AI Summit by Databricks. Whichever show you're visiting, you'll find Virtualitics experts ready to talk all things data analytics and Intelligent Exploration.
Where Data Analysts can see Intelligent Exploration Live
The Snowflake Summit in Las Vegas, Nevada, and Databricks Summit in San Francisco, California, will both feature keynote speakers from leading companies, as well as breakout sessions and workshops on a variety of data-related topics. These conferences are great opportunities to network with other data professionals, learn from leading experts, and see the latest data and data collaboration technologies…including the Virtualitics AI Platform!

Attendees will be able to experience sessions and demos about:
Data lakes and lakehouses
Machine learning and artificial intelligence
Data engineering and data science
Cloud computing
Data governance and security
Data collaboration
We are looking forward to hearing and seeing the latest trends in data and data collaboration from leading experts in the industry. We're also excited to show how the Virtualitics AI Platform can be used to solve real-world problems for Databricks and Snowflake users.
Databricks Summit attendees can meet with our team at booth 42.

Snowflake Summit attendees can visit our team at booth 2132-B.
Advanced Analytics tools powered by Intelligent Exploration
Not planning to be at either show? No worries! We would love to chat about Intelligent Exploration wherever you are:
And of course, you can always request a demo with our tech team to see how the Virtualitics AI Platform can help you get more value from your data.