VIRTUALITICS NEWS, ARTIFICIAL INTELLIGENCE (AI)
Virtualitics Recognized in Eight Gartner® Hype Cycle™ Reports Including Future of Enterprise Applications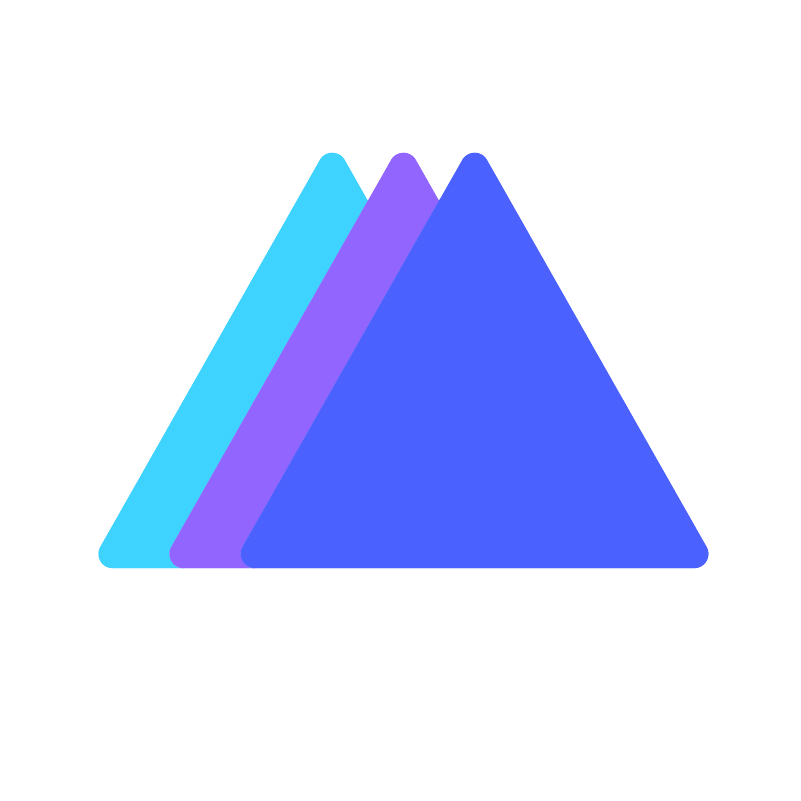 Written by Virtualitics
Sep 7, 2023 6:00:00 AM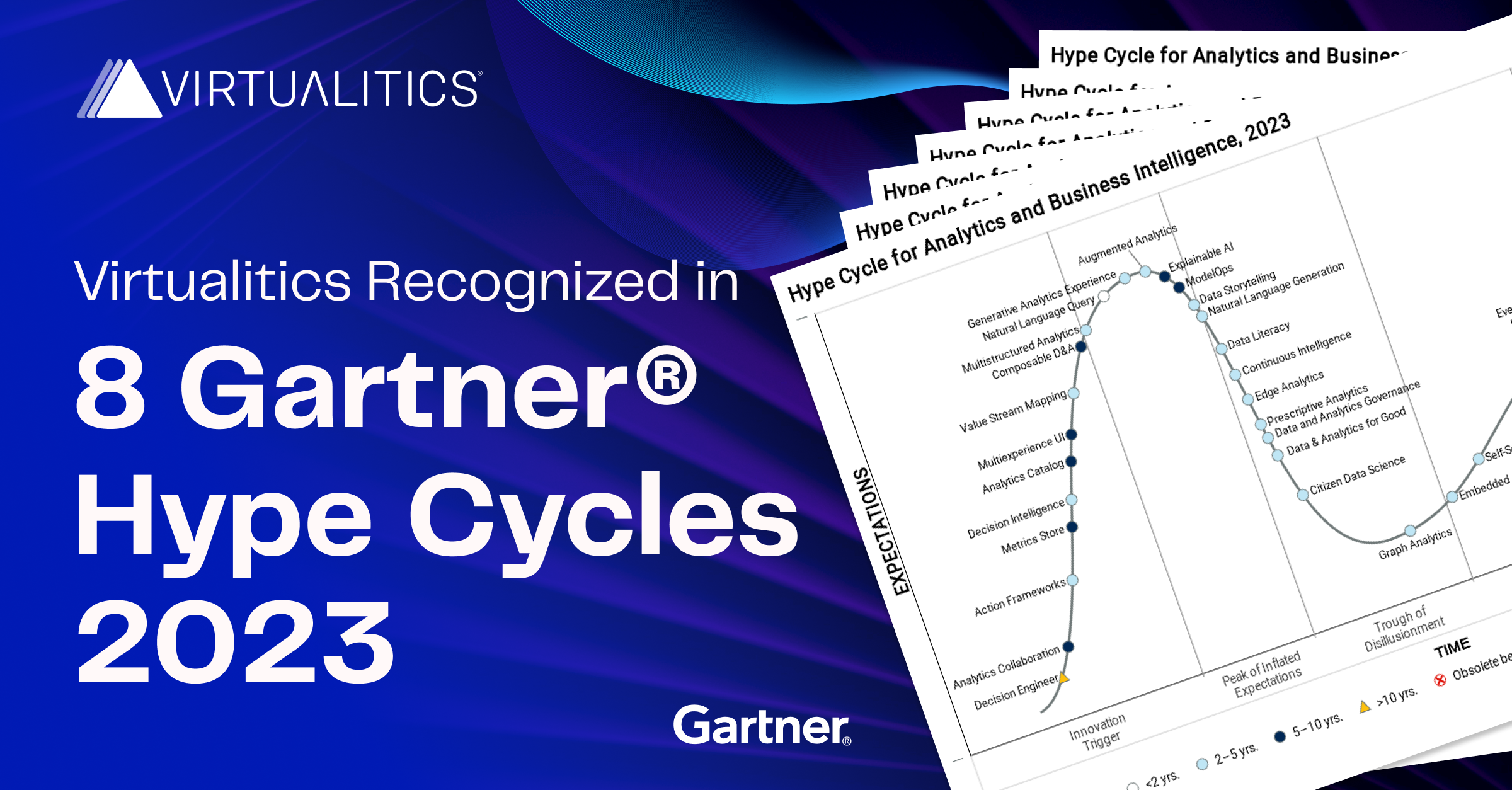 Highlights momentum in emerging data analytics technologies and underscores foundational elements of intelligent exploration.
Pasadena, Calif., Sept. 7, 2023 – Virtualitics Inc., an artificial intelligence and data exploration company, today announced it has been recognized in eight Gartner® Hype Cycle™ reports. Gartner Hype Cycle reports provide a picture of the maturity and adoption of technologies across different functions, and how they are potentially relevant to solving real-world business problems and exploiting new opportunities. In the 2023 Gartner Hype Cycle, Virtualitics is recognized in eight reports, including:
Hype Cycle for Data and Analytics Programs and Practices

Hype Cycle for Analytics and Business Intelligence

Hype Cycle for the Future of Enterprise Applications

Hype Cycle for Data Science and Machine Learning

Hype Cycle for Emerging Technologies

Hype Cycle for Emerging Technologies in Finance

Hype Cycle for Finance Analytics

Hype Cycle for Human Services in Government

"Gaining recognition across eight Gartner Hype Cycles and in 3 separate categories, including graph analytics and multi experiential analytics, is an exceptional milestone," said Virtualitics CEO Michael Amori. "We're especially pleased to be being singled out in the Future of Enterprise Applications category. I see this as an important marker of our leadership in a new category of data analytics we're creating, Intelligent Exploration."
Intelligent Exploration uses out-of-the-box AI to bring advanced analytics within reach of business and data analysts, not just data scientists. Users can make queries in everyday language, explore extremely complex datasets, uncover critical insights, and generate multi-dimensional visualizations.
Virtualitics' AI-driven analytics solution includes innovations at multiple phases of the Gartner Hype Cycle: graph analytics, multi experiential analytics including VR/AR collaboration, explainable AI, natural language query, data storytelling, and augmented analytics (enhanced by AI), among others. Together, these technologies form the foundation for Intelligent Exploration.
In the realm of finance, Intelligent Exploration is being used for customer segmentation and to explore and understand payments intelligence. Credit card issuers can detect and predict fraud risk factors using Virtualitics' 3D network graph algorithm to visualize subtle, recurring patterns and define communities that humans can't spot.
The Gartner Hype Cycle news follows Virtualitics' August announcement of a $37 million Series C investment by Smith Point Capital and inclusion on the Inc. 5000 List of Fastest-Growing Private Companies in America. "If I had to use one word to characterize what we're achieving and doing, it's acceleration," says Amori. "Both in terms of our growth as a company and in how we are accelerating informed strategic decision-making."
To view a copy of the 2023 Gartner® Hype Cycle™ for Analytics and Business Intelligence visit www.virtualitics.com/hypecycle.
About Virtualitics
Virtualitics is pioneering Intelligent Data Exploration, delivering out-of-the-box artificial intelligence capabilities that make advanced analytics possible for more people and organizations. The Virtualitics AI Platform automatically discovers hidden patterns in complex, multi-dimensional data, delivering rich 3D visuals and immersive experiences that guide more informed decisions. Virtualitics helps public and private sector organizations gain real value from all of their data, accelerating their AI initiatives. The company's patented technology is based on more than 10 years of research at the California Institute of Technology. For more, visit virtualitics.com.
Gartner does not endorse any vendor, product or service depicted in its research publications, and does not advise technology users to select only those vendors with the highest ratings or other designation. Gartner research publications consist of the opinions of Gartner's research organization and should not be construed as statements of fact. Gartner disclaims all warranties, expressed or implied, with respect to this research, including any warranties of merchantability or fitness for a particular purpose.
Resources
​​

Gartner, Hype Cycle for Analytics and Business Intelligence, Edgar Macari, Peter Krensky, 27 July 2023

Gartner, Hype Cycle for Data and Analytics Programs and Practices, Donna Medeiros, Andrew White, and 1 more, 26 July 2023

Gartner, Hype Cycle for the Future of Enterprise Applications, Patrick Connaughton, Tad Travis, and 3 more, 18 July 2023

Gartner, Hype Cycle for Data Science and Machine Learning, Peter Krensky, 27 July 2023

Gartner, Hype Cycle for Emerging Technologies in Finance, Mark D. McDonald, 11 July 2023

Gartner, Hype Cycle for Finance Analytics, Clement Christensen, 21 July 2023

Gartner, Hype Cycle for Emerging Technologies, Arun Chandrasekaran, Melissa Davis, August 2023

Gartner, Hype Cycle for Human Services in Government, Ben Kaner, August 2023